---
Call & Text Recording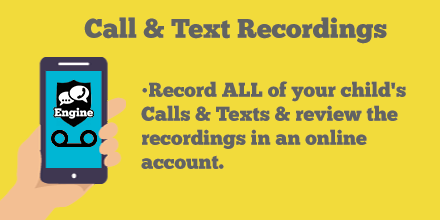 Our Call & Text recording is done via a SIM card and NOT an extension number or app. Our SIM cards record all calls and text to and from the phone. The recordings are available for unlimited reviewing in the online portal, that you will be given access to upon purchasing a SIM. All of the recordings cannot be bypassed, so every communication is recorded securely.
Benefits of recording Calls & Texts.
A way of gathering evidence in cases of cyberbullying, grooming and sexting.
Real life examples to help teach your young child how to use a phone safely before they are trusted with an un-monitored phone.
You are provided with a great way of understanding what's going on in your child's life.
Time Restrictions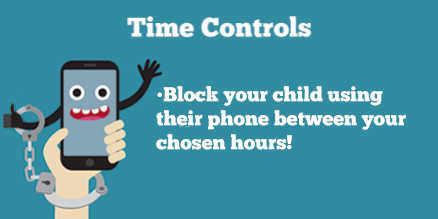 From your safe and secure online account, you have the option to limit the times that your child is able to send and receive calls and texts. You have full control over the chosen times and your child will have no way of avoiding the restrictions. If you feel that you don't need the Time-Restrictions, it can be simply turned off.
Benefits of using Time-Restrictions.
Your child will be unable to use their phone past bed time.
Your child will be prevented from using their phone in lessons at school, reducing the amount of distractions.
A way of preventing your child using their phone as a punishment, rather than removing the phone.
Home Numbers
As part of your monthly contract, your child is able to call and text up to 3 "Home Numbers" an unlimited amount of times. This allows your child to always be able to be in contact with you and other family members or guardians. The "Home Numbers" are not effected by any of the other controls, to ensure that the child will always be able to contact a legal guardian or family member in an emergency. If you chose to record the phone calls to and from the Home Numbers, they will be billed in at the standard call rate outside of your monthly plan.
Benefits of always being able to contacted and be contacted by home.
Your Child will ALWAYS be able to contact you, even when no credit is on their account
If you have a young child using the service, you can limit them to only to be able to contact parents.
You get peace of mind that your child will always be able to contact someone in an emergency.
Specific Word Alerts
This powerful feature alerts you when your child uses certain words or phrases. When an alert word is detected, you will receive instant text notifications and a link to your account, to allow you to act on the alert appropriately as soon as possible. You can create an unlimited list of alert words and phrases in your online account.
Benefits of using alerts.
You will know when your child has shared personal information.
You are provided with alerts if you child is sending or receiving offensive or inappropriate content.
You will be alerted if your child is being contacted by someone that they shouldn't be.
Geolocation ( Phone Tracking)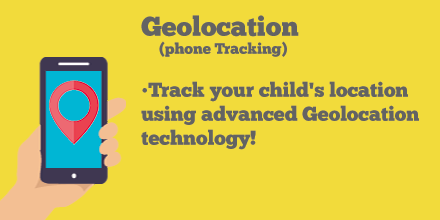 If you purchase our Safe Plan+ SIM, you're provided with the powerful ability to use advanced geo-location technology to track the location of your child and their phone. You can access this information from your online account.
Benefits of Geolocation.
You can roughly see your child's last know location.
You will know if your child isn't where they are meant to be.
If your child decides to run away from home, you will have a way of tracking them down.
Internet Restrictions
From your Engine Mobile account, you have the power to block internet access through mobile data. This will prevent your child accessing the internet through the SIM but still allows them to use a WiFi connection.
Benefits of being able to block Mobile data.
You have the power to control you child's internet usage
You can totally block internet access (when WiFi isn't available)
Prevents additional spending
Powerful Spending Controls
Your ParentShield contract provides your child with Free communication with the "Home Numbers" and the large range of safety features. You have the option to add as many or as little funds as you wish to your account for extra usage so that your child can contact other friends and family. If your balance runs out, you will not be charged any extra and your child will still have full use of the "Home Numbers". We Recommend that you add £10.00 - £20.00 per month to your account to get the maximum out of the service.
Benefits of being able to take full control over spending.
Prevents large surprise bills on to of your contract.
Allows user on a small budget to be able to use the safety features.
Your child can use the balance as and when it is needed.